Buying a car through us
Why take a chance on buying an unreliable old banger from someone who has no interest in how it goes the day after they've got your money?
We want you do have a great run with your vehicle while you're here and tell other people about us. So we'll make sure you get a reliable and safe vehicle
Best deal for your budget
We've got our reputation on the line here – we'll make sure you get a fair deal on a good, safe vehicle.
Mechanical check
Before a vehicle is handed over it is given a complete mechanical check by Darren. Any faults found that are critical to the safe and reliable operation of the vehicle are repaired. It is then given a service - oil change, new oil filter, new air filter, etc. Finally it is given a thorough road test to make sure it runs efficiently and reliably. Please feel free to get an independent opinion on the mechanical condition of the vehicle that you're interested in.
WOF, Licence (Rego) and RUC
For any car to be road legal, it must have a Warrant of Fitness (WOF) - a government quality-assured safety test that must be passed every six months. In addition all vehicles must be licensed for legal road usage. All our vehicles are delivered with a current WOF and Rego. Vehicles that run on diesel also have to pay Road User Charge (RUC) in advance for any driven kilometre. This is also known as diesel tax.
Legal check
We do a legal check on every vehicle to ensure that there are no legal or financial issues involved. If you buy a car anywhere, always check it prior to purchase as in New Zealand vehicles with outstanding finance debts can be repossessed by the finance company!
Payment options
You can pay for your vehicle either via direct credit or cash on pick up. Unfortunately payment with a credit card is not an option. Please keep in mind that a money transfer from overseas may take several days to be cleared at this side of the world. Also be aware that most bank cards only allow withdraws from an ATM machine up to NZ$800 per day and are not accepted for cash withdraws over the counter. That is only possible with a credit card.
Buy Back Agreement
Our buy back agreement means you buy a vehicle through us and, when you are ready to leave, you sell it back to us at a pre-agreed price. Depending on the duration of your holiday this will usually be around 50% of the purchase price.
The only conditions to the buy back are, that the vehicle is clean and in the same condition as when you got it and you have proof that the vehicle service checks have been done when they were due.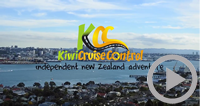 Phone +64 9 298 5822
Mobile +64 21 744 444
Kiwi Cruise Control
Backpacker information